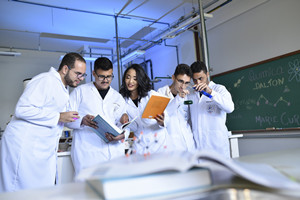 Leading enterprise of polypeptide drugs in China
Shengnuo biopharmaceutical have established long-term friendly cooperation with many foreign companies, such as Roche, Lilly, csbio and Rubin
---
Chengdu shengnuo biopharmaceutical Co., Ltd. has strong technology research and development ability, and its entrepreneurial team has 20 years of experience in peptide drug research, development and production. Since its establishment, the company has successfully developed thymopentin, somatostatin, nesiritide, bivalirudin and other peptide drugs.
In order to follow up the international advanced technology, the company has successively cooperated with Roche company of Switzerland, Eli Lilly company of America, etc Many foreign companies, such as csbio of the United States and Rubin pharmaceutical of India, have established long-term friendly cooperative relations, constantly challenging technology to the highest point, seizing the development opportunity and taking advantage of the situation.
Adhering to the concept of "independent innovation, serving the country and benefiting the people", and adhering to the purpose of "caring for life and health with innovation and quality", suno people sincerely hope to join hands with friends to create a better tomorrow for human life.
Chengdu shengnuo biopharmaceutical Co., Ltd., affiliated to Chengdu Shengnuo Biotechnology Co., Ltd., was established in October 2004. It is a high-tech certification enterprise in Sichuan Province. It is located in the Industrial Development Zone of Dayi County, Chengdu City, covering an area of 120 mu, with a total assets of 150 million.
There are nearly 320 employees, 265 with college degree or above, and 8 with graduate degree or above, among them, engaged in polypeptide There are 26 R & D workers, 10 with senior technical titles and 20 with intermediate technical titles.
The company has API production workshop in line with national GMP certification and comprehensive preparation workshop with various dosage forms. It is a first-class professional enterprise for peptide drug development, production and export, and is one of the leaders in the field of polypeptide drugs in China. In 2012, our company successfully passed the FDA certification with its own strength in peptide drug research and production.
Peptide raw material order
---
Other Polypeptide APIs Products
peptide synthesis companies
---
How many companies are there in peptide api manufacturer in china? The peptide api market is very promising, and the world is encouraging the development of peptide business. There is a peptide api list on the website Biofda.com, which contains various specifications of peptide APIs for customers to choose from. Shengnuo Technology is a peptide api manufacturer located in Chengdu, a city in southwest China. Not only peptide APIs, but also carnosine custom suppliers and cosmetic peptide suppliers
There are many peptide apis manufacture in China, but they are all small-scale companies. The China peptide company such as Sinotech is a leading company in China and has a very high position.
As a Chinese peptide company, Sinotech has been working silently, hoping to become a top peptide company in the world. There are many countries producing peptides in the world, such as bulk drug substance in India, gmp custom peptide in uk, and peptide production in usa. So what is polypeptide? What kind of peptide synthesis supplier should you choose? Follow our website: www.biofda.com, here will tell you the answer.