Acute coronary syndrome Eptifibatide
---
Eptifibatide is a cyclical heptapeptide with anticoagulant activity. Eptifibatide selectively and reversibly binds to and blocks the platelet glycoprotein IIb/IIIa receptor. This prevents the binding of fibrinogen, von Willebrand factor, and other adhesive ligands and leads to an inhibition of platelet aggregation and prevents thrombus development.

Eptifibatide is a synthetic homodetic cyclic peptide comprising N(alpha)-(3-sulfanylpropanoyl)homoarginyl, glycyl, aspartyl, tryptophyl, prolyl and cysteinamide residues connected in sequence and cyclised via a disulfide bond.
Derived from a protein found in the venom of the southeastern pygmy rattlesnake, Sistrurus miliarus barbouri, eptifibatide is an anti-coagulant that inhibits platelet aggregation by selectively blocking the platelet glycoprotein IIb/IIIa receptor, so preventing the binding of fibrinogen, von Willebrand factor, and other adhesive ligands.
It is used in the management of unstable angina and in patients undergoing coronary angioplasty and stenting procedures. It has a role as a platelet aggregation inhibitor and an anticoagulant. It is an organic disulfide, a macrocycle and a homodetic cyclic peptide.

Eptifibatide is a Platelet Aggregation Inhibitor. The physiologic effect of eptifibatide is by means of Decreased Platelet Aggregation.
Eptifibatide Structural Formula: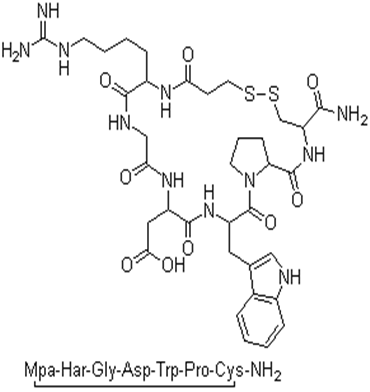 Diseases and fields of Eptifibatide
| Product | Status | Indication of dosage form | Market |
| --- | --- | --- | --- |
| Eptifibatide | Commercial | Acute coronary syndrome | Overseas |
Specifications
| | |
| --- | --- |
| Synthesis mode | chemic synthesis,solid phase synthesis |
| Categories | APIsPeptides; Biopharmaceuticals |
| Sales markets | Western Europe; Asia; North America; Central/South America |
| Supplied from | China |
| Selling Points | International Approvals/Standards |
Show more specificationsConsultation details
Other Polypeptide APIs Products
peptide synthesis companies
How many companies are there in peptide api manufacturer in china? The peptide api market is very promising, and the world is encouraging the development of peptide business. There is a peptide api list on the website Biofda.com, which contains various specifications of peptide APIs for customers to choose from. Shengnuo Technology is a peptide api manufacturer located in Chengdu, a city in southwest China. Not only peptide APIs, but also carnosine custom suppliers and cosmetic peptide suppliers
There are many peptide apis manufacture in China, but they are all small-scale companies. The China peptide company such as Sinotech is a leading company in China and has a very high position.
As a Chinese peptide company, Sinotech has been working silently, hoping to become a top peptide company in the world. There are many countries producing peptides in the world, such as bulk drug substance in India, gmp custom peptide in uk, and peptide production in usa. So what is polypeptide? What kind of peptide synthesis supplier should you choose? Follow our website: www.biofda.com, here will tell you the answer.