What is polypeptide material Production process of polypeptide raw materials Characteristics of polypeptide raw materials Related peptide raw materials FAQ of polypeptide raw materials What you should know about peptides
Guide to The Procurement of Polypeptide APIs
---
Polypeptide APIs include: us-dmf list, Chinese cGMP APIs, Mexico registered APIs, research peptide APIs
What is Polypeptide APIs
---
Peptide is a compound formed by α – amino acids linked together by peptide bond. It is also an intermediate product of protein hydrolysis.
Generally, the number of amino acids in peptides ranges from two to nine. According to the amount of amino acids in peptides, peptides have different names: compounds formed by dehydration and condensation of two amino acid molecules are called dipeptides. Similarly, there are tripeptides, tetrapeptides, pentapeptides, etc., up to nine peptides.
Peptides are usually obtained by dehydration and condensation of 10-100 amino acid molecules. Their molecular weight is less than 10000 Da (Dalton). They can pass through the semipermeable membrane and are not precipitated by trichloroacetic acid and ammonium sulfate. In some literatures, peptides composed of 2-10 amino acids are called oligopeptides (small molecular peptides);
peptides composed of 10-50 amino acids are called peptides; peptides composed of more than 50 amino acids are called proteins, in other words, proteins are sometimes called polypeptides. Peptides, also known as peptides, were discovered in the 20th century.
There are two kinds of peptides: bioactive peptides and synthetic peptides.
Production Process of Polypeptide Raw Materials
---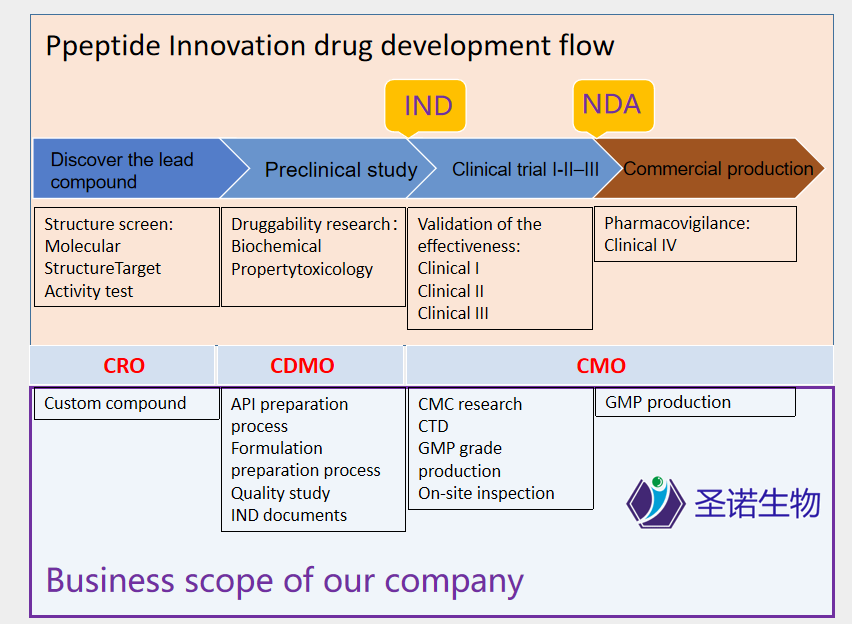 Characteristics of Polypeptide Raw Materials
---
weight
purity
length
modification
Success rate
report
quality assurance
Related Polypeptide Synthesis Products
---
Other Polypeptide APIs Products
FAQ of Polypeptide Synthesis Products
---
| Q: What grade peptides do you supply? | Q: How do you manufacture the peptides? |
| --- | --- |
| Rly: GMP-Grade peptide , can be used for injectable or Oral usage. | Rly: Chemical synthesis, especially the solid-phase |
| Q: Do you have the c-GMP certificate | Q: What's your capacity and batch size? |
| Rly: We do have 8 products with the Chinese GMP certificate, and also has registered in CDE. | Rly: Annual capacity is hundreds of kgs, and some products can be up to 8kg/batch |
| Q: Do you have the DMF ? | Q: How is your quality system? |
| Rly: We have registered in US-FDA, there are 8 peptide products submitted the DMF to the US-FDA | Rly: a) We have the full and strong GMP quality system , accept the cFDA inspected from time to time . |
| Q: Do you have the WC and how does it work? | b) We have the inner and outer quality verify system. |
| Rly: We do have Written confirmation (EU62) for the European market and other regions for some products ,it can replace the GMP certificate in some areas. | c) Annual customer's Audit |
| Q: Have you been inspected by US-FDA and others? | Q: Delivery Issue |
| Rly: Yes, we have been inspected by US-FDA three times .We also have been inspected by KFDA and COFEPRIS. | Rly: Prompt after confirmation , and will required the cold-chain shipment. |
| Q: was wondering if china imports any raw peptide materials, or are all raw materials sourced locally? | Q: Are you selling bulk to US? Doing some investingation investment purposes and we are not clear on if there are any restrictions or difficulties with export logistics. |
| Rly: Depands on the product,we are most of the raw matrial sorcing locally | Rly: YES,we sell the peptide API bulk to US,and till now we don't have any problem on the shipment. |
| | If you have any interested item ,we can keep in touch by email , the address is : roleagh@gmail.com |
What you should know about peptides
---