Semaglutide
---
Semaglutide (trade names Rybelsus, Ozempic) is a medication used for the treatment of type 2 diabetes.[1][2]
Semaglutide acts like human glucagon-like peptide-1 (GLP-1) so that it increases insulin secretion, thereby increasing sugar metabolism. It is distributed as a metered subcutaneous injection in a prefilled pen. One of its advantages over other antidiabetic drugs is that it has a long duration of action, thus, only once-a-week injection is sufficient.[3]
An injection version was approved in 2017 in the United States, and in Europe, Canada, and Japan in 2018. A version which is taken by mouth was approved in 2019 in the United States. It is the first glucagon-like peptide (GLP-1) receptor protein treatment approved for use in the United States that does not need to be injected.[4] It was developed by the Danish company Novo Nordisk.
Side effects including nausea, vomiting, diarrhea, abdominal pain, and constipation may occur.[5]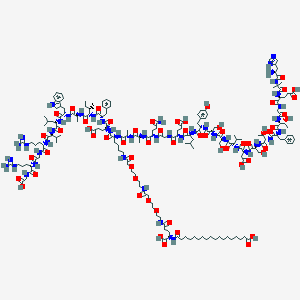 Semaglutide Specifications
| | |
| --- | --- |
| Synthesis mode | chemic synthesis,solid phase synthesis |
| Categories | APIsPeptides; Biopharmaceuticals |
| Sales markets | Western Europe; Asia; North America; Central/South America |
| Supplied from | China |
| Selling Points | International Approvals/Standards |
Show more specifications
Research Peptide APIs for Regulatory Market Peptide Bulk Drug
| Research Peptide APIs for Regulatory Market | |
| --- | --- |
| Product Name | US-DMF Time Point |
| Linaclotide | Before the end of 2019 |
| Ganirelix | Before the end of 2019 |
| Degarelix | Before the end of 2020 |
| Exenatide | Before the end of 2021 |
| Teduglutide | Before the end of 2021 |
| Cetrorelix | Before the end of 2021 |
| Semaglutide | Before the end of 2022 |
Other Polypeptide APIs Products
peptide synthesis companies
How many companies are there in peptide api manufacturer in china? The peptide api market is very promising, and the world is encouraging the development of peptide business. There is a peptide api list on the website Biofda.com, which contains various specifications of peptide APIs for customers to choose from. Shengnuo Technology is a peptide api manufacturer located in Chengdu, a city in southwest China. Not only peptide APIs, but also carnosine custom suppliers and cosmetic peptide suppliers
There are many peptide apis manufacture in China, but they are all small-scale companies. The China peptide company such as Sinotech is a leading company in China and has a very high position.
As a Chinese peptide company, Sinotech has been working silently, hoping to become a top peptide company in the world. There are many countries producing peptides in the world, such as bulk drug substance in India, gmp custom peptide in uk, and peptide production in usa. So what is polypeptide? What kind of peptide synthesis supplier should you choose? Follow our website: www.biofda.com, here will tell you the answer.