Exenatide
---
Exenatide, sold under the brand name Byetta and Bydureon among others, is a medication used to treat diabetes mellitus type 2.
It is used together with diet, exercise, and potentially other antidiabetic medication. It is a less preferred treatment option after metformin and sulfonylureas.It is given by injection under the skin within an hour before the first and last meal of the day.A once-weekly injection version is also available.
Common side effects include low blood sugar, nausea, dizziness, abdominal pain, and pain at the site of injection.
Other serious side effects may include medullary thyroid cancer, angioedema, pancreatitis, and kidney injury.
Use in pregnancy and breastfeeding is of unclear safety.Exenatide is a glucagon-like peptide-1 receptor agonist (GLP-1 receptor agonist) also known as incretin mimetics.It works by increasing insulin release from the pancreas and decreases excessive glucagon release.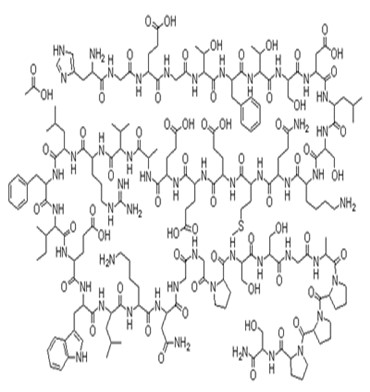 Exenatide Specifications
| | |
| --- | --- |
| Synthesis mode | chemic synthesis,solid phase synthesis |
| Categories | APIsPeptides; Biopharmaceuticals |
| Sales markets | Western Europe; Asia; North America; Central/South America |
| Supplied from | China |
| Selling Points | International Approvals/Standards |
Other Polypeptide APIs Products