Atosiban
---
Atosiban, sold under the brand name Tractocile among others, is an inhibitor of the hormones oxytocin and vasopressin.
It is used as an intravenous medication as a labour repressant (tocolytic) to halt premature labor. It was developed by Ferring Pharmaceuticals in Sweden and first reported in the literature in 1985.
Originally marketed by Ferring Pharmaceuticals, it is licensed in proprietary and generic forms for the delay of imminent preterm birth in pregnant adult women.
The most commonly reported side effect is nausea.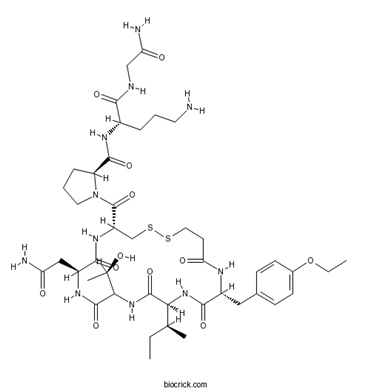 Atosiban Specifications
| | |
| --- | --- |
| Synthesis mode | chemic synthesis,solid phase synthesis |
| Categories | APIsPeptides; Biopharmaceuticals;Polypeptide APIs |
| Sales markets | Western Europe; Asia; North America; Central/South America |
| Supplied from | China |
| Selling Points | International Approvals/Standards |
Other Polypeptide APIs
Other Polypeptide APIs Products
peptide synthesis companies
How many companies are there in peptide api manufacturer in china? The peptide api market is very promising, and the world is encouraging the development of peptide business. There is a peptide api list on the website Biofda.com, which contains various specifications of peptide APIs for customers to choose from. Shengnuo Technology is a peptide api manufacturer located in Chengdu, a city in southwest China. Not only peptide APIs, but also carnosine custom suppliers and cosmetic peptide suppliers
There are many peptide apis manufacture in China, but they are all small-scale companies. The China peptide company such as Sinotech is a leading company in China and has a very high position.
As a Chinese peptide company, Sinotech has been working silently, hoping to become a top peptide company in the world. There are many countries producing peptides in the world, such as bulk drug substance in India, gmp custom peptide in uk, and peptide production in usa. So what is polypeptide? What kind of peptide synthesis supplier should you choose? Follow our website: www.biofda.com, here will tell you the answer.