Atosiban
---
Atosiban, sold under the brand name Tractocile among others, is an inhibitor of the hormones oxytocin and vasopressin.
It is used as an intravenous medication as a labour repressant (tocolytic) to halt premature labor. It was developed by Ferring Pharmaceuticals in Sweden and first reported in the literature in 1985.
Originally marketed by Ferring Pharmaceuticals, it is licensed in proprietary and generic forms for the delay of imminent preterm birth in pregnant adult women.
The most commonly reported side effect is nausea.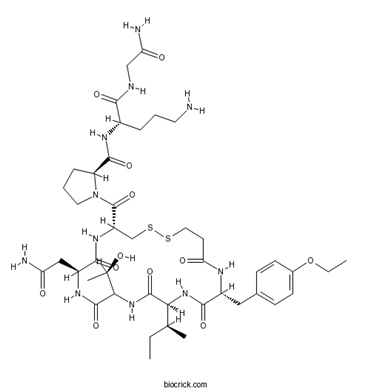 Atosiban Specifications
| | |
| --- | --- |
| Synthesis mode | chemic synthesis,solid phase synthesis |
| Categories | APIsPeptides; Biopharmaceuticals;Polypeptide APIs |
| Sales markets | Western Europe; Asia; North America; Central/South America |
| Supplied from | China |
| Selling Points | International Approvals/Standards |
Other Polypeptide APIs
Other Polypeptide APIs Products