Carbetocin
---
Carbetocin, sold under the brand names Pabal among others, is a medication used to prevent excessive bleeding after childbirth, particularly following Cesarean section.
It appears to work as well as oxytocin.Due to it being less economical than other options, use is not recommended by NHS Scotland.It is given by injection into a vein or muscle.
Side effects differ little from that of no treatment or placebo.Use is not recommended in people with epilepsy or eclampsia.Carbetocin is manufactured long acting form of oxytocin.It works by activating the oxytocin receptor which causes the uterus to contract.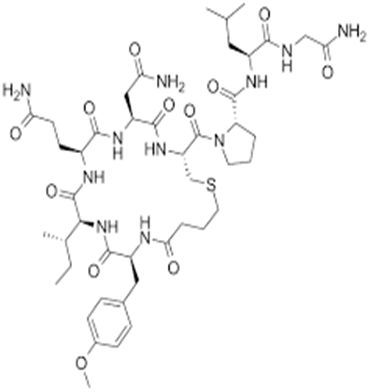 Carbetocin Specifications
| | |
| --- | --- |
| Synthesis mode | chemic synthesis,solid phase synthesis |
| Categories | APIsPeptides; Biopharmaceuticals;Polypeptide APIs |
| Sales markets | Western Europe; Asia; North America; Central/South America |
| Supplied from | China |
| Selling Points | International Approvals/Standards |
Other Polypeptide APIs
Other Polypeptide APIs Products