Enfuvirtide
---
Enfuvirtide (INN) is an HIV fusion inhibitor, the first of a class of antiretroviral drugs used in combination therapy for the treatment of HIV-1 infection. It is marketed under the trade name Fuzeon (Roche).

Enfuvirtide works by disrupting the HIV-1 molecular machinery at the final stage of fusion with the target cell, preventing uninfected cells from becoming infected.
A biomimetic peptide, enfuvirtide was designed to mimic components of the HIV-1 fusion machinery and displace them, preventing normal fusion. Drugs that disrupt fusion of virus and target cell are termed entry inhibitors or fusion inhibitors.
HIV binds to the host CD4+ cell receptor via the viral protein gp120; gp41, a viral transmembrane protein, then undergoes a conformational change that assists in the fusion of the viral membrane to the host cell membrane. Enfuvirtide binds to gp41 preventing the creation of an entry pore for the capsid of the virus, keeping it out of the cell.
Enfuvirtide is also an activator of the chemotactic factor receptor, formyl peptide receptor 1, and thereby activates phagocytes and presumably other cells bearing this receptor (see formyl peptide receptors).
The physiological significance of this activation is unknown.
Enfuvirtide is considered to be active against HIV-1 only. Low activity against HIV-2 isolates has been demonstrated in vitro.
Variable susceptibility to enfuvirtide has been observed in clinical isolates, with acquired resistance the result of a mutated 10 amino acid motif in viral gp41. Primary resistance, however, has yet to be observed.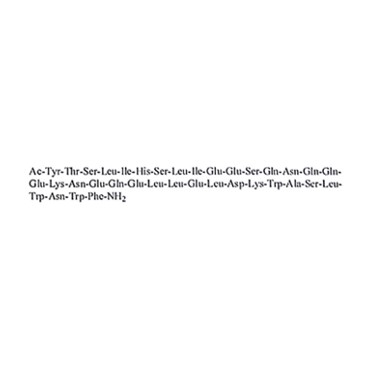 Enfuvirtide Specifications
| | |
| --- | --- |
| Synthesis mode | chemic synthesis,solid phase synthesis |
| Categories | APIsPeptides; Biopharmaceuticals;Polypeptide APIs |
| Sales markets | Western Europe; Asia; North America; Central/South America |
| Supplied from | China |
| Selling Points | International Approvals/Standards |
Other Polypeptide APIs
Other Polypeptide APIs Products
peptide synthesis companies
How many companies are there in peptide api manufacturer in china? The peptide api market is very promising, and the world is encouraging the development of peptide business. There is a peptide api list on the website Biofda.com, which contains various specifications of peptide APIs for customers to choose from. Shengnuo Technology is a peptide api manufacturer located in Chengdu, a city in southwest China. Not only peptide APIs, but also carnosine custom suppliers and cosmetic peptide suppliers
There are many peptide apis manufacture in China, but they are all small-scale companies. The China peptide company such as Sinotech is a leading company in China and has a very high position.
As a Chinese peptide company, Sinotech has been working silently, hoping to become a top peptide company in the world. There are many countries producing peptides in the world, such as bulk drug substance in India, gmp custom peptide in uk, and peptide production in usa. So what is polypeptide? What kind of peptide synthesis supplier should you choose? Follow our website: www.biofda.com, here will tell you the answer.