Teriparatide Acetate
---
Teriparatide is also known as recombinant human parathyroid hormone (1-34) and it exhibits anabolic effects on bone.
Teriparatide is an anti-osteoporotic drug that is clinically used to treat osteoporosis; it does not exhibit anti-resorptive benefit, but stimulates bone formation and increases bone strength. Teriparatide activates the PTH1 receptor.
In clinical settings, teriparatide decreases new fracture occurrence and back pain and increases lumbar spinal bone mineral density.
In mouse bone marrow stromal cells, teriparatide upregulates expression of osterix and Runx2; in paired animal models, this compound increases osteoblast maturation and improves fracture healing.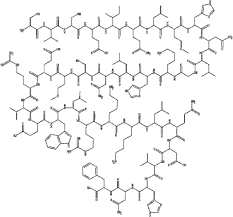 Teriparatide Acetate Specifications
| | |
| --- | --- |
| Synthesis mode | chemic synthesis,solid phase synthesis |
| Categories | APIsPeptides; Biopharmaceuticals;Polypeptide APIs |
| Sales markets | Western Europe; Asia; North America; Central/South America |
| Supplied from | China |
| Selling Points | International Approvals/Standards |
Show more specifications
Other Polypeptide APIs
Other Polypeptide APIs Products