Eptifibatide Describe
---
CAS No.: 148031-34-9
Molecular formula: c35h49n11o9s2
English synonyms:; [3-carbamoyl-11 – {4 – [(diaminothymidine) amino] butyl} – 20 – (1h-indol-3-ylmethyl) – 1,9,12,12,15,18,21,21-hexaoxodocasahydro-7h-pyrrolo [2,1-g] [1,2,5,5,8,11,11,14,17,20] dithiahayexazacyclocricosin-17-yl] acetic acid; [(1s, 4R, 12s, 18S, 21s) – 12 – (4-carboxyl, 21s) – 12 – (4-carboxyl, 21s) – 12 – (4-carbbababa) 12 – (4-carbababacbacbacbacbacbacailoxy] acetic acid; [(1s, 4R, 12s, 18S, 21mimidamidobutyl) – 4-carb
Molecular weight: 831.96
Sequence: MPR harg Gly ASP Trp Pro Cys NH2
Eptifibatide is a cyclic heptapeptide containing 6 amino acids and 1 mercaptopropionyl (des-amino cysteinyl) residue.
An interchain disulfide bridge is formed between the cysteine amide and the mercaptopropionyl moieties. Chemically it is N6-(aminoiminomethyl)-N2-(3-mercapto-1-oxopropyl)-Llysylglycyl-L-α-aspartyl-L-tryptophyl-L-prolyl-L-cysteinamide, cyclic (1→6)-disulfide. Eptifibatide binds to the platelet receptor glycoprotein (GP) IIb/IIIa of human platelets and inhibits platelet aggregation.
The eptifibatide peptide is produced by solution-phase peptide synthesis, and is purified by preparative reverse-phase liquid chromatography and lyophilized.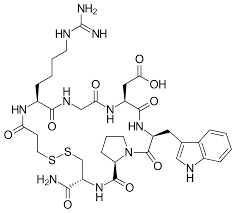 Eptifibatide Specifications
| | |
| --- | --- |
| Synthesis mode | chemic synthesis,solid phase synthesis |
| Categories | APIsPeptides; Biopharmaceuticals |
| Sales markets | Western Europe; Asia; North America; Central/South America |
| Supplied from | China |
| Selling Points | International Approvals/Standards |
Show more specifications
Other Polypeptide APIs Drug
Other Polypeptide APIs Products
peptide synthesis companies
How many companies are there in peptide api manufacturer in china? The peptide api market is very promising, and the world is encouraging the development of peptide business. There is a peptide api list on the website Biofda.com, which contains various specifications of peptide APIs for customers to choose from. Shengnuo Technology is a peptide api manufacturer located in Chengdu, a city in southwest China. Not only peptide APIs, but also carnosine custom suppliers and cosmetic peptide suppliers
There are many peptide apis manufacture in China, but they are all small-scale companies. The China peptide company such as Sinotech is a leading company in China and has a very high position.
As a Chinese peptide company, Sinotech has been working silently, hoping to become a top peptide company in the world. There are many countries producing peptides in the world, such as bulk drug substance in India, gmp custom peptide in uk, and peptide production in usa. So what is polypeptide? What kind of peptide synthesis supplier should you choose? Follow our website: www.biofda.com, here will tell you the answer.