Atosiban Acetate Injection
---
【Drug name】
Generic name:Atosiban Acetate Injection
English name:Atosiban Acetate Injection
Pinyin:CusuanAtuoxibanZhusheye【Ingredients】
Main ingredients:Atosiban Acetate Injection
Chemical name:1-(3-mercaptopropionic acid) -2-(_-ethyl-D-tyrosine) -4-L-threonine-8-L-ornithine-oxytocin acetate
Molecular formula:C43H67N11O12S2·nC2H4O2
molecular weight:994.19·n60.02
Accessories:Mannitol, hydrochloric acid, water for injection【Character】
This product is colourless and clear liquid.【Indication】
Atoxiban is suitable for pregnant women with the following conditions in order to postpone the impending premature delivery:
– Regular uterine contractions of at least 30 seconds per time, more than 4 times per 30 minutes
– Cervical dilatation 1-3 cm (0-3 cm for non-pregnant women) and uterine softening/thinning (>50%)
– Age over 18
– 24 to 33 weeks of gestation
– Normal fetal heart rate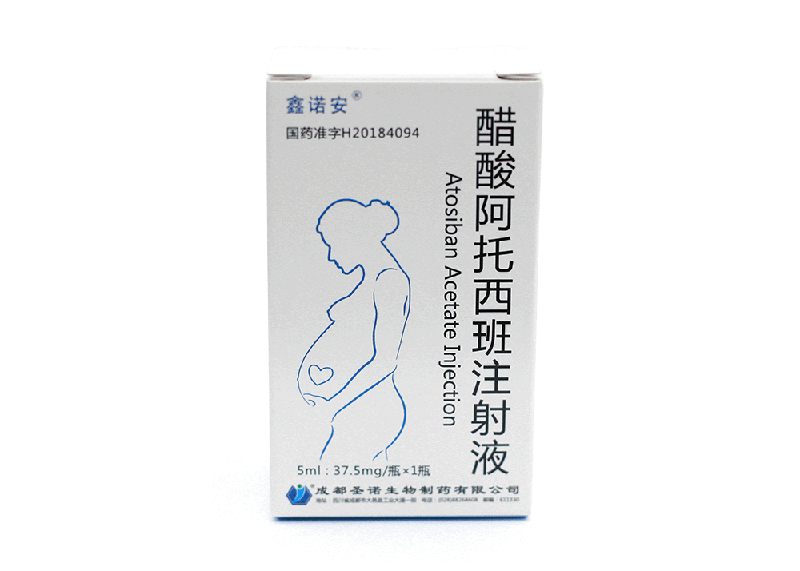 ---
Atosiban Acetate Injection Related information
Atosiban Acetate Injection [Usage and dosage]
Atoxiban must be used by a doctor with experience in the treatment of premature birth.
There are three consecutive steps for intravenous administration of atroxiban: the first single dose of atroxiban acetate injection (0.9 ml/bottle) is 6.75 mg, followed by three consecutive hours of high-dose diluted atroxiban acetate injection (300 ug/min), followed by a low-dose diluted atroxiban acetate injection (100 ug/min) for 45 hours. Treatment should not exceed 48 hours. In a complete course of Atoxiban treatment, the total dose of Atoxiban should not exceed 330 mg. Once diagnosed as premature delivery, the first single dose intravenous infusion should be started as soon as possible. After the single dose of intravenous infusion is completed, intravenous drip therapy should be carried out. If there is persistent uterine contraction during atroxiban treatment, other treatments should be considered. For patients with renal and liver dysfunction, there is no data on dose adjustment. The following table lists the total doses of Atoxiban:
[production enterprise]
Company name: chengdu shengnuo biological pharmaceutical co., LTD
Production address: dayi county, chengdu city, sichuan province industrial avenue section
Zip code: 611330
Telephone: 86-28-88203630
---
Other Polypeptide APIs Products
peptide synthesis companies
How many companies are there in peptide api manufacturer in china? The peptide api market is very promising, and the world is encouraging the development of peptide business. There is a peptide api list on the website Biofda.com, which contains various specifications of peptide APIs for customers to choose from. Shengnuo Technology is a peptide api manufacturer located in Chengdu, a city in southwest China. Not only peptide APIs, but also carnosine custom suppliers and cosmetic peptide suppliers
There are many peptide apis manufacture in China, but they are all small-scale companies. The China peptide company such as Sinotech is a leading company in China and has a very high position.
As a Chinese peptide company, Sinotech has been working silently, hoping to become a top peptide company in the world. There are many countries producing peptides in the world, such as bulk drug substance in India, gmp custom peptide in uk, and peptide production in usa. So what is polypeptide? What kind of peptide synthesis supplier should you choose? Follow our website: www.biofda.com, here will tell you the answer.