Bivalirudin Product description
---
CAS No.: 128270-60-0
Molecular formula: c98h138n24o33
English synonyms: 128270-60-0; L-leucine, d-phenylalanyl-l-pro-lyl-l-l-arginyl-l-l-pro-lylycycycycycycycyl-l-l-asparacyl-l-l-asparacyl-l-l-phenylalanyl-l-l-phenylalanyl-l-l-l-l-phenylalanyl-l-l-l-phenylalanyl-l-l-l-phenylalanyl-l-pro-lyl-l-l-l-l-phenylalanyl-l-l-l-l-l-arginyl-l-l-l-l-l-l-l-l-l-l-l-l-l-l-l-l-l-l-l-l-l-l-l-l-l l-tyrosyl -; D-phenylalanyl-L-prolyl-L-arginyl-L-prolylglycylglycylglycylglycyl-L-asparaginylglycyl-L-alpha-aspartyl-L-phenylalanyl-L-alpha-glutamyl-L-alpha-glutamyl-L-isoleucyl-L-prolyl-L-alpha-glutamyl-L-alpha-glutamyl-L-tyrosyl-L-leucine
Molecular weight: 2180.2853
Sequence: d-phe-pro-arg-pro-gly-gly-gly-asn-gly-asp-phe-glu-ile-pro-glu-tyr-leu-oh
Use as an anticoagulant in patients with unstable angina undergoing percutaneous transluminal coronary angioplasty .
Bivalirudin is a synthetic 20 residue peptide (thrombin inhibitor) which reversibly inhibits thrombin. Once bound to the active site, thrombin cannot activate fibrinogen into fibrin, the crucial step in the formation of thrombus. It is administered intravenously.
Because it can cause blood stagnation, it is important to monitor changes in hematocrit, activated partial thromboplastin time, international normalized ratio and blood pressure.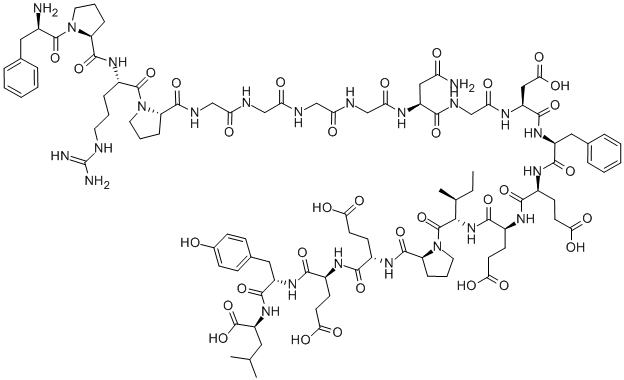 Bivalirudin Specifications
| | |
| --- | --- |
| CAS Registry Number | 128270-60-0 |
| Categories | APIsPeptides; Biopharmaceuticals |
| Sales markets | Western Europe; Asia; North America; Central/South America |
| Supplied from | China |
| Selling Points | International Approvals/Standards |
Other Polypeptide APIs
Other Polypeptide APIs Products
peptide synthesis companies
How many companies are there in peptide api manufacturer in china? The peptide api market is very promising, and the world is encouraging the development of peptide business. There is a peptide api list on the website Biofda.com, which contains various specifications of peptide APIs for customers to choose from. Shengnuo Technology is a peptide api manufacturer located in Chengdu, a city in southwest China. Not only peptide APIs, but also carnosine custom suppliers and cosmetic peptide suppliers
There are many peptide apis manufacture in China, but they are all small-scale companies. The China peptide company such as Sinotech is a leading company in China and has a very high position.
As a Chinese peptide company, Sinotech has been working silently, hoping to become a top peptide company in the world. There are many countries producing peptides in the world, such as bulk drug substance in India, gmp custom peptide in uk, and peptide production in usa. So what is polypeptide? What kind of peptide synthesis supplier should you choose? Follow our website: www.biofda.com, here will tell you the answer.