Use as an anticoagulant in patients with unstable angina undergoing percutaneous transluminal coronary angioplasty (PTCA) Bivalirudin
---
Bivalirudin is a synthetic 20 residue peptide (thrombin inhibitor) which reversibly inhibits thrombin. Once bound to the active site, thrombin cannot activate fibrinogen into fibrin, the crucial step in the formation of thrombus. It is administered intravenously. Because it can cause blood stagnation, it is important to monitor changes in hematocrit, activated partial thromboplastin time, international normalized ratio and blood pressure.
For treatment of heparin-induced thrombocytopenia and for the prevention of thrombosis. Bivalirudin is indicated for use in patients undergoing percutaneous coronary intervention (PCI), in patients at moderate to high risk acute coronary syndromes due to unstable angina or non-ST segment elevation in whom a PCI is planned.
Bivalirudin mediates an inhibitory action on thrombin by directly and specifically binding to both the catalytic site and anion-binding exosite of circulating and clot-bound thrombin. The action of bivalirudin is reversible because thrombin will slowly cleave the thrombin-bivalirudin bond which recovers the active site of thrombin.
Inhibits the action of thrombin by binding both to its catalytic site and to its anion-binding exosite. Thrombin is a serine proteinase that plays a central role in the thrombotic process, acting to cleave fibrinogen into fibrin monomers and to activate Factor XIII to Factor XIIIa, allowing fibrin to develop a covalently cross-linked framework which stabilizes the thrombus; thrombin also activates Factors V and VIII, promoting further thrombin generation, and activates platelets, stimulating aggregation and granule release.
Bivalirudin Structural Formula: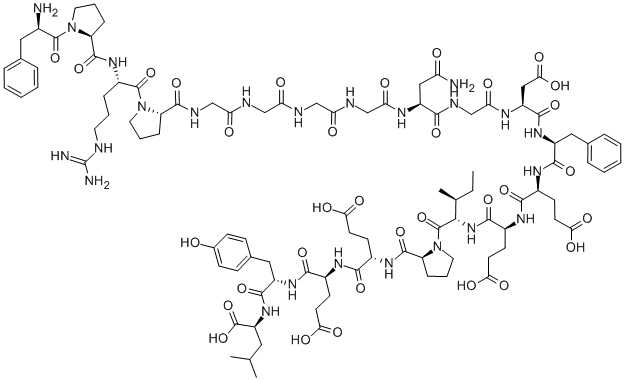 Diseases and fields of Bivalirudin
| Product | Status | Indication of dosage form | Market |
| --- | --- | --- | --- |
| Bivalirudin | Commercial | Use as an anticoagulant in patients with unstable angina undergoing percutaneous transluminal coronary angioplasty (PTCA) | Overseas Domestic |
Specifications
| | |
| --- | --- |
| Synthesis mode | chemic synthesis,solid phase synthesis |
| Categories | APIsPeptides; Biopharmaceuticals |
| Sales markets | Western Europe; Asia; North America; Central/South America |
| Supplied from | China |
| Selling Points | International Approvals/Standards |
Show more specificationsConsultation details
Other Polypeptide APIs Products
peptide synthesis companies
How many companies are there in peptide api manufacturer in china? The peptide api market is very promising, and the world is encouraging the development of peptide business. There is a peptide api list on the website Biofda.com, which contains various specifications of peptide APIs for customers to choose from. Shengnuo Technology is a peptide api manufacturer located in Chengdu, a city in southwest China. Not only peptide APIs, but also carnosine custom suppliers and cosmetic peptide suppliers
There are many peptide apis manufacture in China, but they are all small-scale companies. The China peptide company such as Sinotech is a leading company in China and has a very high position.
As a Chinese peptide company, Sinotech has been working silently, hoping to become a top peptide company in the world. There are many countries producing peptides in the world, such as bulk drug substance in India, gmp custom peptide in uk, and peptide production in usa. So what is polypeptide? What kind of peptide synthesis supplier should you choose? Follow our website: www.biofda.com, here will tell you the answer.